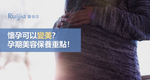 懷孕還是要愛美!孕婦媽咪各階段美容保養重點 You still have to love beauty during pregnancy! The key points of various stages of beauty care for pregnant women
初為人母,妳是既喜悅,卻又有點懷著一點擔心嗎?擔心寶寶營養健康擺在第一位,擔心身材走樣,產後很難恢復從前的身材,想要養胎不養肉……
媽咪愛美不是罪!現在就來教妳如何懷孕也能一人吃兩人補、持續美麗不流失!
As a new mother, are you both happy, but a little worried? Worrying about baby nutrition and health comes first, worrying about body shape loss, it is difficult to restore the previous body shape after childbirth, and wanting to raise a fetus without raising meat...

Mommy's love for beauty is not a sin! Now I'm going to teach you how to get pregnant and you can take two supplements for one person and keep your beauty without losing!
備孕期:多食蔬果葉酸營養
Pregnancy period: eat more fruits and vegetables with folic acid nutrition
從計劃懷孕開始,就要戒煙、戒酒,盡量不要用藥。每天多吃些含豐富維生素的新鮮綠葉蔬菜和水果,尤其注意葉酸的攝取。
根據衛生署國民健康部所公布的國人膳食營養素參考攝取量建議,備孕中婦女在受孕前一個月至懷孕期間,每日需攝取600微克的葉酸,可降低神經管畸形及唇裂胎兒的出生。
葉酸廣泛存在於許多天然蔬果食物中都是豐富的來源,如果在日常飲食中攝取不足,則建議在醫師處方指導下,適量補充蔬果纖維質等營養,多喝水,有助排毒養顏調整體質,以待好「孕」到來。
From the beginning of planning to become pregnant,it is necessary to quit smoking and drinking, 
and try not to use drugs. Eat more fresh green leafy vegetables and fruits that are rich in vitaminsevery day, paying particular attention to the intake of folic acid.

According to the national dietary nutrient reference intake recommendations published by the Ministry of Health, women who are preparing for pregnancyneed to consume 600 micrograms of folic acid a day
from one month before conception to pregnancy,
which can reduce neural tube defects and the birth 
of fetuses with cleft lip.

Folic acid is widely found in many natural fruits and vegetables and is a rich source. If the intakeis insufficient in the daily diet, it is 
recommended to supplement the nutrients such as vegetable and fruit fiber in an appropriate amount under the guidance of a doctor. Drink plenty of water to help detoxify, nourish the skin, and adjust the physique. To wait for the arrival of "pregnancy".
懷孕初期(0~3個月):
Early pregnancy (0~3 months):
補充膠原蛋白質幫助皮膚彈性與肌肉生長
Supplement collagen protein to help skin elasticity and muscle growth
寶寶的出生後的健康,約有20%的遺傳基因取決於最初的受精卵細胞的遺傳基因,其餘80%可能在早期成長階段受到影響和改變,因此在懷孕初期階段,若能夠攝取充足且豐富的營養,則是為可以為寶寶建立一生的健康基礎。
For the baby's health after birth, about 20% of the genetic genes depend on the genetic genes of the original fertilized egg cells, and the remaining 
80% may be affected and changed in the early growth stage. Therefore, in the early stages of pregnancy, if you can get enough and abundant Nutrition is to build a healthy foundation for the baby for a lifetime
依據國人膳食營養素參考攝取量建議,自懷孕第一週起,每日需額外增加10公克的蛋白質,攝取優質的蛋白質營養還能幫助寶寶生長肌肉,腹中的寶寶正以驚人的速度繁殖生長細胞,進一步發育出所有器官,若缺乏蛋白質,很可能讓生長速度遲緩。
According to the national dietary nutrient reference intake recommendations, from the first week of pregnancy, an additional 10 grams of protein must be added every day. Intake of high-quality proteinnutrition can also help the baby grow muscles. 
The baby in the abdomen is reproducing and growingcells at an alarming rate. , Further develop all organs, if lack of protein, it is likely to slow down the growth rate.
對愛美的媽媽來說,攝取膠原蛋白這類的營養品可以作為攝取蛋白質來源很好的保養,幫助皮膚彈性、肌肉生長與體力維持,對於懷孕後仍有在健身運動的媽媽,一樣可以攝取乳清蛋白、大豆蛋白作為蛋白質的攝取管道. 
For mothers who love beauty, intake of nutrients such as collagen can be used as a good source of protein to maintain skin elasticity, muscle growth and physical strength. For mothers who are still exercising after pregnancy, they can also take milk. Albumin and soy protein are used as protein intake channels.
懷孕中期(4-6個月):
補充鈣質矯正齒色不均與頭髮脫落
Second trimester (4-6 months):

Calcium supplement to correct uneven tooth color and hair loss
經過三個月後,胎兒逐漸穩定成長,因應懷孕27~28週胎兒迅速發育成長,媽媽需要補充更多鈣質。依據國人膳食營養素參考攝取量建議,孕婦每日建議攝取1000毫克鈣質,國人鈣質攝取量普遍不足,成人攝取量僅達建議量的五至七成,因此在這段期期媽媽們需要注意鈣質的攝取含量。
After three months, the fetus gradually grows 
steadily. In response to the rapid development andgrowth of the fetus at 27-28 weeks of pregnancy, 
the mother needs more calcium. According to the 
national dietary nutrient reference intake
recommendations, pregnant women are recommended 
to consume 1,000 mg 
of calcium per day. The calcium intake of Chinese is generally insufficient, and the adult intake isonly 50 to 70% of the recommended amount.
Therefore, mothers need to pay attention during
thisperiod. The amount of calcium intake.
母體鈣質攝取不足又沒有額外補充時,就容易發生抽筋、顫抖、情緒不穩、疲勞等症狀出現,而較容易影響外觀的症狀,還包含齒色不均勻容易反黃,頭髮大量掉落,睡眠品質不佳導致面色泛黃與黑眼圈浮現等問題,因此媽媽們務必攝取含量足夠的鈣質,才不會導致上述情況發生。
Insufficient maternal calcium intake and no additional supplementation will lead to cramps, tremors,emotional instability, fatigue and other symptoms.Symptoms that are more likely to affect the appearance, including uneven tooth color, which is easy to turn yellow, and a lot of hair fall. Poor sleepquality causes problems such as yellowing of the complexion and the appearance of dark circles underthe eyes. Therefore, mothers must take in enough calcium to prevent the above from happening.
懷孕後期(7-10個月):
補充維生素C預防孕斑與妊娠紋浮現
Late pregnancy (7-10 months):
Vitamin C supplementation to prevent pregnancy spots and stretch marks from appearing
在此階段,寶寶身體各個系統逐漸發育健全,體重也會明顯增長、胎位下降,使得媽咪們的腹部的皮膚真皮層急速伸張,若皮下組織因經不起擴張,就會出現斷裂的情況,此時就可能在皮膚表面上形成一條條或深或淺的妊娠紋,或是臉頰上呈現淺褐色至深褐色的不規則狀的孕斑。此時多補充富含有維生素C的蔬菜水果和動物性的膠原蛋白是個不錯的選擇,由於維生素C會抑制黑色素的生成,對於妊娠紋和孕斑的改善極有幫助。
At this stage, the baby's body systems are gradually developed and healthy, the weight will also increase significantly, and the fetal position will decrease, causing the dermal layer of the abdomen of moms to stretch rapidly. If the subcutaneous tissue cannot withstand the expansion, it will break.At this time, dark or light stretch marks may be formed on the skin surface, or light brown to dark brown irregular pregnancy spots may appear on the cheeks. At this time, it is a good choice to add more fruits and vegetables rich in vitamin C and animal collagen. Because vitamin C can inhibit the production of melanin, it is extremely helpful for the improvement of stretch marks and pregnancy spots.
隨著胎兒長大也可能擠壓到胃的位置,有些媽咪可能會開始影響到您的胃口,而引起第二階段孕吐的情況,隨著肚子愈變愈大,行走活動、睡眠、飲食作息都可能被影響,維生素C也幫助鐵質吸收,減少貧血暈眩的機率,以及改善疲勞的氣色。
As the fetus grows up, it may squeeze into the 
position of the stomach. Some moms may begin to 
affect your appetite and cause the second stage 
of morning sickness. As the belly grows larger, 
walking, sleeping, eating and resting are all 
It may be affected, vitamin C also helps iron 
absorption, reduces the chance of anemia and 
dizziness, and improves the appearance of fatigue.

產後/哺乳期間:產後調理復原
Postpartum/breastfeeding period: postpartum conditioning and recovery
辛苦的孕媽咪們終於平安生下寶寶後,開始想朝著恢復生產前身的目標而努力,大多數媽咪在產後1到5個月期間,會經歷塞奶、大量落髮、產後漏尿、排惡露等問題接踵而來,雖想馬上吃營養品來補足母體欠缺的需求,但也必須顧及是否會影響提供給寶寶的母乳,此時媽咪們最需要的是調理生理較全面的營養,才能盡快恢復原本的樣貌。
After the hard-working pregnant moms finally gave birth to their babies safely, they began to work 
hard towards the goal of resuming their predecessors. Most moms would experience stuffing of milk, 
a lot of hair loss, and urine leakage during the 
1 to 5 months postpartum period. Problems such as lochia excretion have come one after another. 
Although they want to eat nutrients immediately
to make up for the lack of the mother's needs,
they must also consider whether they will affect
the breast milk provided to the baby. At this
time, what moms need most is to regulate the 
physiological and comprehensive nutrition. In 
order to restore the original appearance as soon
as possible.
膠原蛋白有幫助產後傷口修復,以及鬆弛的皮膚恢復緊緻彈力的效果,而益生菌則可以較針對生理機能進行調整,對媽媽來說則是調節敏感體質、腸胃消化道與泌尿道運作的營養補給品,尤其添加整腸過敏好菌,可以預防媽咪因腸胃蠕動變慢而造成的便祕,另外攝取有含蔓越莓成分的益生菌,減少因產後分泌的惡露造成的感染發炎機會
Collagen can help repair postpartum wounds and 
restore firmness and elasticity of loose skin,
while probiotics can be adjusted for physiologicalfunctions. For mothers, it is the nutrition that regulates sensitive body, gastrointestinal digestive tract and urinary tract. Supplements, especiallyintestinal allergic bacteria, can prevent constipationcaused by slow gastrointestinal motility. In addition, intake of probiotics containing cranberryingredients can reduce the chance of infection andinflammation caused by lochia secreted after childbirth.
必須注意的是,剛出生的寶寶並不需要額外補充膠原蛋白與益生菌的營養,提醒媽咪們別因求好心切而讓寶寶誤食囉!
It must be noted that the newborn baby does not 
need to supplement the nutrition of collagen and 
probiotics. Remind moms not to let the baby eat 
it bymistake because of kindness!
在懷孕期間攝取營養,對大多數孕媽咪可不簡單,有80%可能出現嗅覺變得靈敏、食慾降低、噁心、孕吐、胃腸脹氣等不適感,有些人狀況還能忍受,有些人則會嚴重到食不下嚥。因此,無論在哪一階段中,媽咪們更是必須注意自己的健康需求擺在第一,對於營養保健品的需求則可以依照自己的狀況來吃,千萬不可強迫自己為了寶寶而誤食,也切忌因愛美而攝取過多,以免愛美不成,反倒先造成自己的負擔了。
Ingesting nutrition during pregnancy is not easy
for most pregnant mothers. 80% of them may 
experience discomforts such as sharp sense of 
smell, decreased appetite, nausea, morning 
sickness, flatulence, etc. Some people can 
tolerate the condition, while others will be 
severe. Can't swallow. Therefore, no matter at
which stage, moms must pay attention to their 
health needs first, and their needs for
nutritional health products can be eaten accordingto their own conditions, and they must not be 
forced to eat for the baby. , And don't take too
much because of the love of beauty, so as not to 
love the beauty, it will cause one's own burden
first.