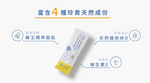 Royal Jelly with Pearl Moisturizing Collagen Powder
Collagen is the most abundant PROTEIN in our bodies. It's found in our muscles, bones, skin and tendons. It's the "glue" that helps hold the body together. It gives our skin strength and elasticity and helps replace dead skin cells.
Increasing collagen levels can help your skin look firmer, increase smoothness, and help your skin cells keep renewing and repairing normally. A recent study even found that collagen is an effective treatment for treating osteoarthritis and other joint disorders.
When skin loses its elasticity as a result of decreased collagen, there's another side effect: more visible cellulite! Because your skin is now thinner, cellulite becomes more evident — no more hiding what's happening below the surface. Improving your skin's elasticity through collagen will help reduce that dimpling on your skin.